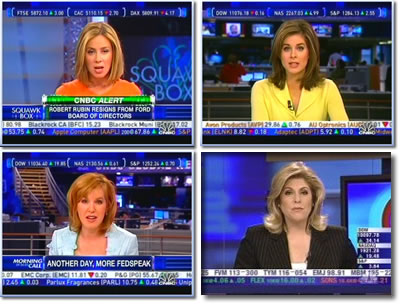 CNBC is a great network. It's so informative and entertaining for those that own stocks because like it always says "providing up to the minute news coverage on stocks and investments". I especially like Fast Money and Mad Money because those guys are incredibly entertaining and intelligent. Oh and who would forget those scrolling stock tickers! It's simply addicting!
Unfortunately, I never made a penny listening to those guys on TV. It was extremely effective at killing time and made me sound very smart in front of my coworkers as I can repeat what TV is saying but other than that, it didn't do much.
The Effect of TV and News Coverage
While CNBC is the number one network in covering investing news and can give a ton of insight into what's currently happening, there's no way that you can make money off it.
Last night, Jim Cramer and others were telling us to be careful because the stock market has gone up too far, too fast. They predicted that people will be taking profits and while they think the bottom of the stock market was near, they believe it will be tough short term.
This was great advice and even though they were right, you would've sold first thing this morning when the Dow was already down 150 points along with the rest of us who heard the exact advice!
Maybe if you were a short term investor, it would be good to watch the show because so much of short term investing is psychology, which CNBC can definitely give you. However, if you are a long term investor who's lean towards a buy and hold strategy, perhaps CNBC is not for you.
Promote or Save This Article

If you like this article, please consider bookmarking or helping us promote it!
Print It | Email This | Del.icio.us | Stumble it! | Reddit |
Related Posts